Buffalo High School adopts new freshmen-only first day
First day of school '18-19 geared toward Freshman Mentor program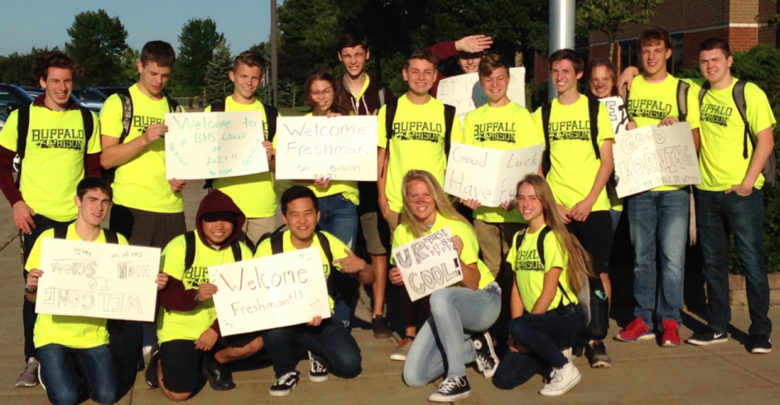 The day after Labor Day has been the first day of school for decades in most schools in Minnesota. However, BHS recently made the decision to change the traditional first day of school to something different, impacting everyone at BHS. On September 4, 2018, only the incoming freshman and their freshman mentors, along with teachers, will be required to go to school. Since only these 60 mentors and all freshmen are coming to school on Tuesday, all other sophomores, juniors, and seniors will not begin their normal school year until Wednesday, September 5th.
World Language teacher and Freshman Mentor Program Director Jess Nickelsen talks about her plans and goals for the new start of the 2018-19 school year. Her goal is to make the freshman more adapted to Buffalo High School, and to have more one on one conversations with teachers.
"I think that the biggest thing is that we want to make sure that the freshmen are comfortable with their mentors," Nickelsen said. "That would be our priority as the Freshman Mentor group… we want to make sure that by the day is over, the freshmen are comfortable enough to talk to [the mentors] about anything that they need and that they understand that throughout the school year [the mentors] are just one more person, aside from their friends, aside from their teachers, that they can ask questions about school, activities, or advice about anything academic or social that they might encounter in high school."
The first day is designed to help students make new connections with people in their grade, upperclassman leaders, and various staff members throughout the building, along with figuring out their way around the building. The connections created during this first day will continue throughout the first semester of the year during Bison Time, where freshmen have had assignments to in the past at BHS.
The official plan for activities and teacher involvement is not confirmed by administration yet, but the day itself has been set aside for next year's welcome to freshmen. The school board has confirmed this and is hopeful for a positive change for more success in the incoming students.
Buffalo Community Middle School will also be following a similar program through their WEB program, requiring only their 8th grade leaders and incoming 6th graders to attend school on the first day of the school year. Their goal, as we know, is to ease the elementary school to middle school transition for kids.