Preparing for the Flu Season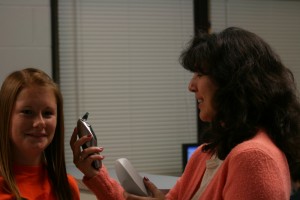 Every year, you stock up on cough drops, cold medicine, tissues, and the increasingly popular hand sanitizer.
"When winter comes, i always have a little travel size thing of tissues that i keep in by backpack with a couple cough drops if i need them," Said Sophomore Rebekah Gjerstad. "I try to stay as healthy as i can so i don't miss school."
According to the School Nurse Justine Stephens, about 70 students come to the nurse's office a day, and out of those 70, usually 5 or 6 students go home due to being sick.
"Out of the 70 who usually come to the health office, the major reasons are headaches, stomachaches, or just small injuries that they would need a band aid for." Said Stephens.
This year has been the worst for sick students with H1N1 in the air, there has been more students to the health office earlier into the school year.
"Around Thanksgiving is usually when we get most kids to the office, but this year, it started right away in September, and the amount of kids leaving school cause they're sick almost doubled." Said Stephens
Even though students are here for part of the day, they are still missing out on important classes. Missing half a day has just about the same amount of make up work as missing a full day. But being at school sick can ut other students at risk of getting sick.
"Once or twice a year i end up going home sick,"  Said Senior David Altmann. "I've always had almost perfect attendance since elementary school, but this year has been the worst, but i'm trying not to miss school cause it's hard to catch up."