Track and Field fights for All-Conference honors
Sections up next for Bison Track and Field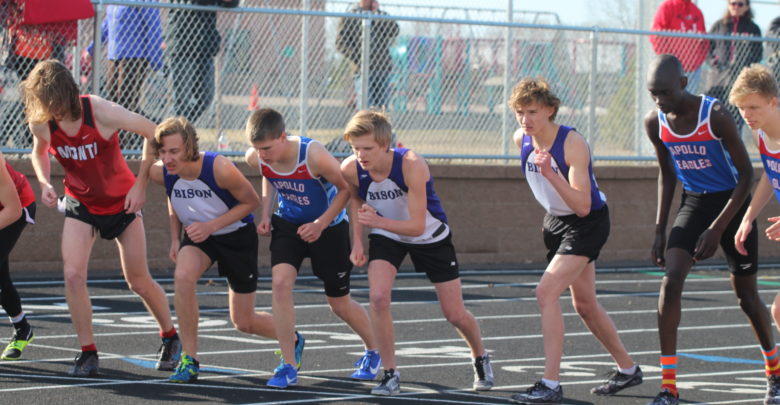 Buffalo High School and few Middle School students recently competed in the Mississippi 8 Conference Track & Field Meet on Wednesday, May 23. With hot conditions, Buffalo still managed to pull through with great times and scores.
"We have a very young team, especially on the boys' side," said Head Coach Scott Palmer. "The girls finished third, and that was as high as they've been in a while, and then the boys were fifth, which was good considering the number of younger 9th and 10th graders we have on our team. So, I was happy with their efforts, we had a lot of personal bests that were set last night, so it was good."
First place finishes came from Isaac Basten ('19) in the boys 1600m and 3200m, Alexis O'Malley ('20) in the girls 800m, and Lauren Feddema ('22) in the girls 400m. Second place finishes came from Amanda Montplaisir ('18) in the girls 1600m, Alexei Hensel ('19) in the boys 800m, and Travis Scotting ('18), Braden Benson ('18), Ryan Russek ('19), and Brett Hanson ('19) in the boys 4x800m. Many Buffalo students made top-five in their events, however, only top-four places receive All-Conference honors (see list below).
On May 30 and June 1, Buffalo's Track & Field team will take on Sections for a final battle to compete to go to State. Hopes are high for the team, as Buffalo has had past state appearances in various events.
"Hopefully we'll have a few people [make it to state], our distance crew has been really strong on both sides," Palmer said. "We also have some sprinters on the girls side that have done well… and they've had good times."
Top two individuals from each individual event will advance to the State Meet, as well as two teams per relay event. Athletes may also advance to the State Meet if they meet the time required specified for their event.
All Conference:
Alexei Hensel ('19)
Braden Benson ('18)
Isaac Basten ('19)
Ryan Russek ('19)
Travis Scotting ('18)
Brett Hanson ('19)
Ben Ruhr ('18)
Lauren Feddema ('22)
Alexis O'Malley ('20)
Amanda Montplaisir ('18)
Kari Zumach ('18)
All Conference Honorable Mention:
Katie Lavato ('20)
Brianna Bluiett ('22)
Josie Lavato ('20)
Macie Guida ('22)
Emma Latcham-Reiter ('20)
Mackenzie Dircks ('19)
Dillon Huss ('21)
Zach Rome ('18)
(Photo by Lindsey Kauffman)