Q&A With the 2017 Hall of Fame Winners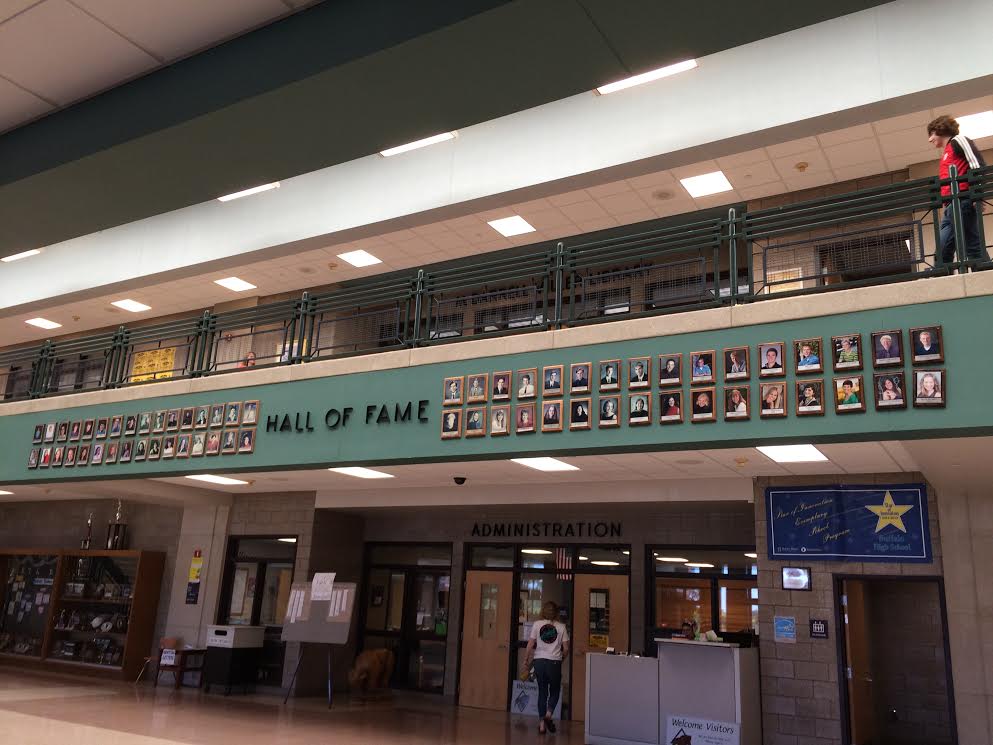 May 15 was BHS's annual Academic Awards Night, and along with that came the announcement of this year's Senior Hall of Fame Winners. Hoofprint met with and interviewed Rebecca Horak and Mitchell Bunting to find out what makes them stand out from the crowd.
Hoofprint: What was going through your head when you found out you had won?
Rebecca Horak: Wait, who? ME?! I was so surprised!\
Mitchell Bunting: Before they announced it I was thinking to myself, "No way do I win. The other four guys next to me are way more qualified than I am." And when I won I thought, "Mischke just said my name…holy crap this is happening!" I was in pure disbelief.
HP: What do you think your teachers value most about you as a student?
RH: I think teachers appreciate that I enjoy school and want to be proud of my work.
MB: I think they value my true willingness to learn and go beyond the material. I also strive to develop strong relationships with every student and staff member that I come in contact with which is not only recognized by the teachers, but also helps me grow as an individual.
HP: What inspires you?
RH: My inspiration really comes from wanting to be smart. I know it sounds cheesy, but school has never come very easily to me and in middle school I made it my goal to work as hard as I could so I could be looked upon as a smart student.
MB: I am inspired every day by the role models in and out of our school. Like I mentioned before, by forming deeper connections with my teachers, family friends, and school administrators, I have become more involved in activities and events at the school, but also with the people.
HP: What is your biggest accomplishment/proudest moment from high school?
RH: My biggest accomplishment is maintaining a 4.0. I remember going home telling my parents this was my goal freshman year and both of them replied with, "That's awesome, but maybe just think about some more realistic goals."
MB: I've never had one proudest moment or biggest accomplishment. Instead I love reflecting on how in my opinion, I did high school right. No two people should "do high school" the same way as the other, but for me and the activities and classes that I took, I wouldn't want to change a single thing about my experience at the high school.
HP: What is your favorite memory from high school?
RH: All my favorite memories come from student council and I couldn't be more thankful for getting to be co-president with Allie Swearingen this year.
MB: My best memories are either from long bus rides to sports games, or late night work nights for yearbook and student council. Those are the times when you find your closest friends and see the most dedication and pride in the school.
HP: What is the biggest piece of advice you have for lower classmen about high school?
RH: To underclassmen, I believe everyone has been dealt a different hand in life and will be on their own personal journey. I encourage your goal to be to make the absolute best of your situation and to work every day to reach your highest potential!
MB: When you wake up in the morning, tell yourself it's going to be a good day and think positive thoughts throughout the day.  It's not about the end goals in life, but the everyday journey you take to get there. Find your strengths and express them through any activity or organization possible. And lastly, one thing I didn't learn until this year is to reflect on what you've accomplished or how you could've done better. There's always room for improvement and the best time to start improving is now.