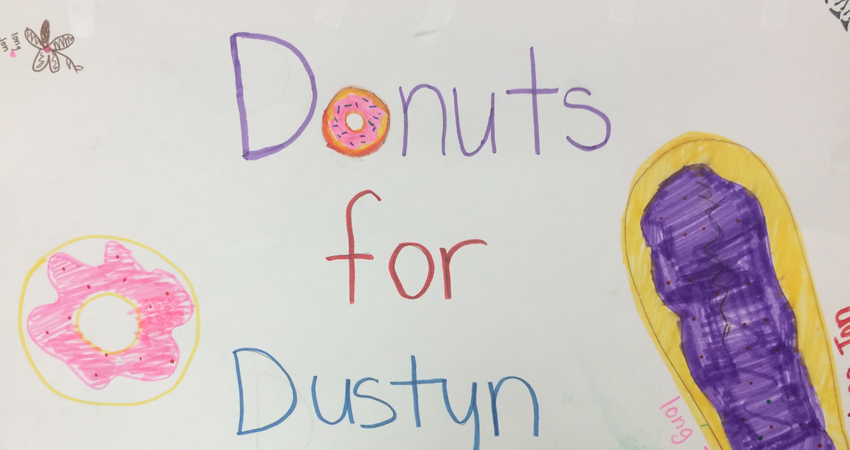 Donuts for Dustyn Raises $1,301.50
Hundreds of students and teachers went to their locker bays on Friday, March 17th with $1 in their to hand to buy a donut for the "Donuts for Dustyn" fundraiser. Kwik Trip graciously donated 300 donuts for Students Stepping Up to sell and raise money for Officer Brusch and his family to help him in his battle with cancer.
Many students and teachers gave generous donations towards the cause even if they didn't buy a donut. In fact, SSU's goal of selling out came true before 8:30 when many students arrive. Ashley Cordt said that "A lot of people still had their money so they just dropped it into a bucket even though we didn't have any donuts, which was really cool!"
Mr. Rabehl also showed support by passing a hat around the band room, encouraging students to donate money for Officer Brusch. By the end of the day, the total amount of money raised was counted to $1,301.50!
Officer Brusch was diagnosed with stage 4 colorectal cancer at the end of January, and has since set up a GoFundMe page where you can read his story and donate money.
When Officer Brusch isn't pulling people over outside the school, "He's inside mentoring students, or talking to students that have a harder time at school. He normally sits down and chats with them about it and tries to put them on the right track." When SSU decided to bring awareness to his situation, they thought that selling donuts might be a good way to raise money because of the correlation between police officers and donuts and it would be enjoyable for those choosing to donate.
Normally, SSU focuses on groups of people to raise money for, but it was refreshing and heart-warming to see all the students and teachers donating to help out a valued member of the Buffalo school community.