Reflection of a New Principal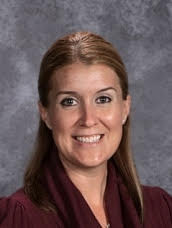 Katie Gohl, was named assistant principal this past August at Buffalo High School after the position opened up. She previously worked at Buffalo Middle School for 11 years as a reading teacher and technology integration specialist before she got the email in June informing her about the assistant principal job opening at the high school. Gohl recently completed her first semester as the new assistant principal and look time to share about how it went.
What were your thoughts when you found out you were accepted for the position?
"I was extremely excited. Just the ability to do something that I had worked so hard for and dreamed about doing. I felt that I had put myself out there and tried to be courageous about it. In doing that, it's exciting to be able to stay here with students and teachers I know and care a lot about."
What does a typical day look like for you?
"That's the exciting part, every day is so different. There is never a moment that I am bored at work and that's really what I love about the job. I like the challenge that it brings and helping kids, helping teachers, helping staff members. I like assisting families when they call. I really like the variety for sure."
What has been the most challenging part of starting a new job?
"At first, it was getting to know the ins and outs of a new building, like the logistical things. The smaller pieces of starting a new job, and learning a whole new flow of a different school building has been challenging and I wasn't really expecting that."
What has been the most rewarding for you so far?
"The most rewarding thing to me is when a student or staff member will come to me and open up about either the wonderful things, or the difficult things that are going on in their lives. It makes me feel like I'm doing my job and what I want is for people to know they can trust me. Sometimes students see me as an assistant principal and that can be scary, so the kids that I do get to have conversations with, letting them know that I am a support person to them. With the staff members, letting them know that although I might be a new person to them, I also want to be a support to them so that they can share things with me."
What is a goal you have for the rest of the school year?
"Supporting students as they come to me. Being available to listen. Sometimes there are busy moments where I am not available because there are things going on but I always try to follow up or listen to them if they approach me in the hallway. Even if they are in trouble, trying to follow up in a positive way. Just making connections, or attending different activities or events to see kids in that fashion too."
What is the impact you want to have on your students?
"To have courage and be kind. As you go through life, those are 2 things that will take you a long ways. Just in general being kind to people and putting other people first. Being courageous when life gets hard, will take you to places you never thought possible."