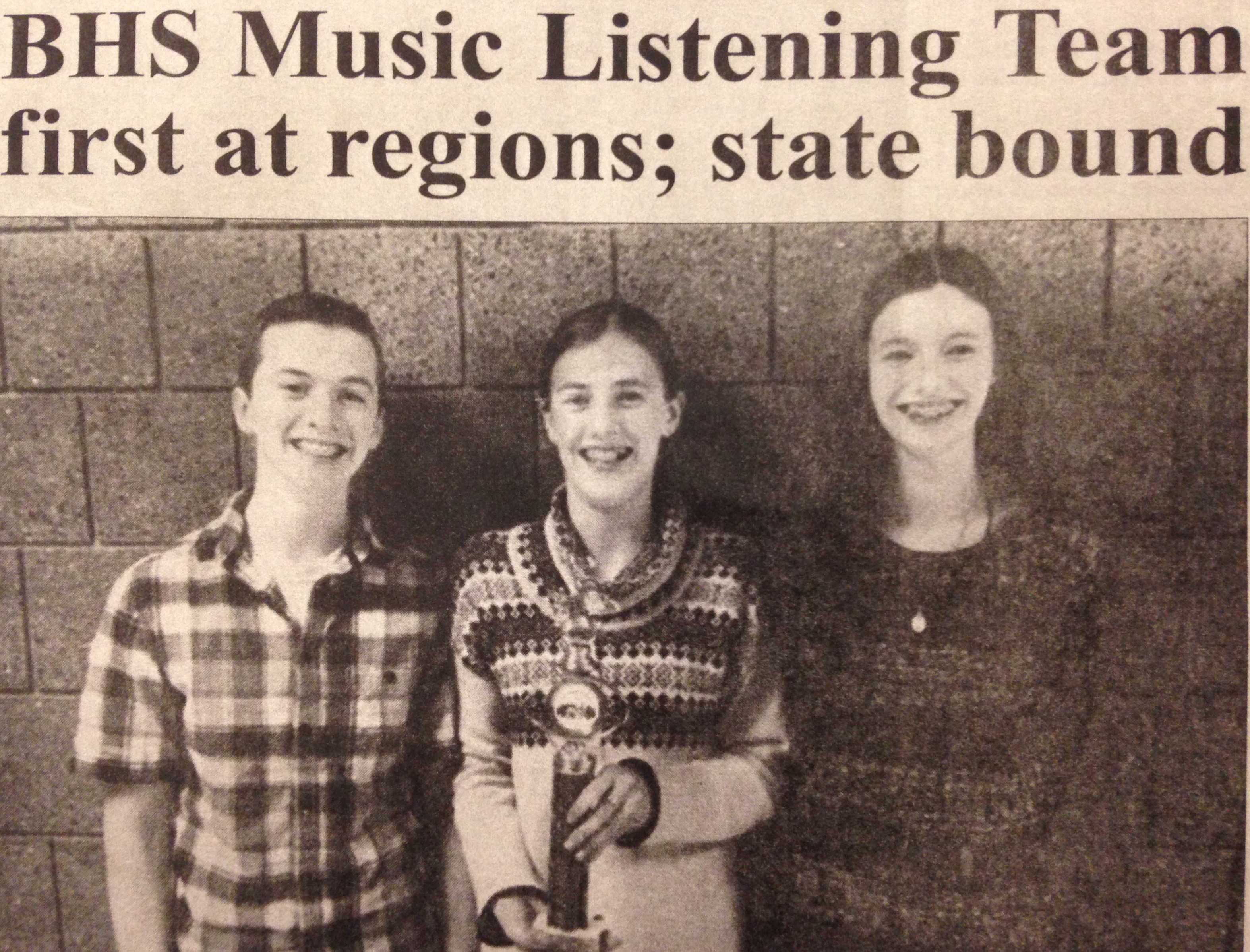 The Music Listening Team's Journey to State
    At Augsburg College in Minneapolis, Emma Staut, Rachel Huss, and Declan Thompson listened as hard as they could to many pieces of classical music they were given in order to tie with two other teams for eighth place at the state competition for the Music Listening Contest on February 3rd. They scored a total of 79 out of 100 throughout the 5 rounds they competed in, not far behind the winning team.
    Before the contest began, they were given the opportunity to listen to live performances of a couple of pieces from their study booklet, including Swedish fiddling and a vocal performance of a song composed by Brahms.
Maybe these distractions weren't enough; not only did they have to memorize 42 composers and a piece composed by each, but they also tried to memorize the dates that each song was written, different themes and vocabulary that pertained to each song, and—last but not least—the spelling of each classical composer and their piece.
It was difficult to meet with Mr. Walsh because of busy schedules, so a lot of the studying was done on their own, splitting up the extensive study guide and using their free year's-worth subscription to Naxos. It wasn't as much time as they would have liked to have had, but they pulled through by cramming on the bus down to Augsburg College and focusing on the little details on their own.
When finally seated at the competition, they received exactly the same scores they'd received at regionals in the first three rounds. The fourth round wasn't as successful, but the fifth round "killed their chances" according to Rachel. One problem was that "You think it sounds like one thing, but it doesn't actually sound like that."
There was a lot more pressure to do right from the win they had earned at the regional contest. It was stressful trying to remember the little details when each thirty-second excerpt was being played. All 21 teams were given time to reflect on their progress between rounds when a microphone was passed around and the teams were asked questions about their school, their musical interests, and who their favorite composer was.
How in the world does a person decide to compete in a contest of listening to classical music? Rachel Huss explained that she discovered this contest when her sophomore friend would be "riding the bus and listening to music and reading this book, and I asked her what it was. She said it was the High School Music Listening Contest…I got interested in that and decided to join when Mr. Walsh brought up the information on it."
All three had a musical background; Declan and Emma being recruited by Rachel from their shared orchestra class. Music has been important to Rachel Huss; she is involved in many musical activities and says that "I'm a really competitive person and I don't have a winter sport, so if I have this after school then I have something music-related to fill my schedule, and I like that."
The Music Listening Contest might be just the activity for a person who wouldn't mind learning more about classical music and who wants to understand how this genre of music has shaped our world.