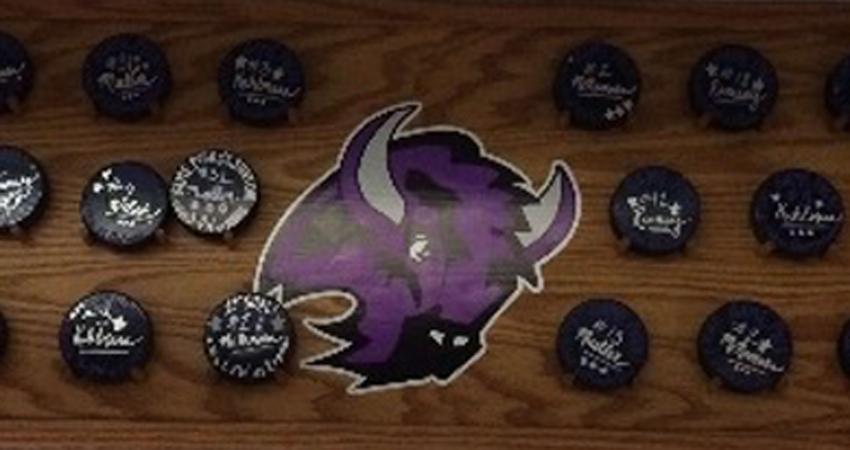 A Tradition Lives On Through Recognition of the Varsity Boys Hockey Players
The definition of the word "team" from Merriam-Webster is as follows: a group of people who work together [for a common goal]. The Buffalo Bison Boys' Hockey team meets just that definition, working together and utilizing their individual strengths in order to reach a common goal: a win. When the boys achieve that common goal, Coach Aaron Johnson of the Varsity Boys Hockey team acknowledges key players of the game by giving them a "game puck," a hockey puck decorated with the player's name, date, and game they received it after. This game puck is used as a symbol of recognition.
"Anything you can do to raise spirits and makes guys feel like they're important pieces of the puzzle," said Coach Johnson.
This tradition started back in the '80s at Armstrong High School when Coach Johnson's dad was his coach. He started it because his team was doing well and he wanted to recognize them, just as it's done today. The tradition started off as a player just getting a game puck for playing well and then expanded to where Johnson's mom or other coaches' wives would write fancy calligraphy on the puck in a more formal recognition. Johnson has carried on this tradition since, doing it all ten years he's been a high school hockey coach.
After the team has won a game, the coaches take a few minutes and talk. They each throw out a couple of names who they think deserve a game puck. Most nights, three to five guys get recognized.
"They choose who really pushed the team to do their best," said sophomore goalie Nathan Mueller.
"It just boosts your confidence because you know you're playing good and the coaches tell you that," said senior Blake Habisch, the leading scorer on the team, who has earned a few game pucks for some of his accomplishments, including a hat trick.
Nathan Mueller said, "They boost confidence and kind of encourage you to perform like that again."
Mueller has gotten five shutouts this season and received a puck for each one. But even though these pucks are confidence boosters, they're not usually something the players use as motivation.
"I just think that the most important thing is getting a team win," said Habisch.
The one that sticks out the most in Coach Johnson's mind is when senior Mateo Johnson received his.
"The kids were just so excited for Mateo and that's one of those special moments where you just get to see how much it meant to the entire group," Coach Johnson said.
During the first game against St. Francis, Mateo Johnson scored his first varsity goal, earning himself a game puck.
"It was nice, it felt like I got noticed," said Johnson about receiving the game puck.
To Coach Johnson, it's all about the recognition of his team. He wants the players to feel included, especially when they perform well.
"We want to recognize guys for the contributions they make to helping us win," Coach Johnson said.
The team members agree: Mateo Johnson said, "It's a good way to recognize the players that stand out each game."
When you're recognized, it's something to be proud of. Receiving a puck is like receiving a trophy for these players.
As Coach Johnson expressed, "We go to kids' houses for team practice and things like that and you see their pucks laying in their bedroom on their mantel or on display so I think it means a lot to the kids to be recognized by their coaches."