Bison Fall to Moorhead Spuds 10-0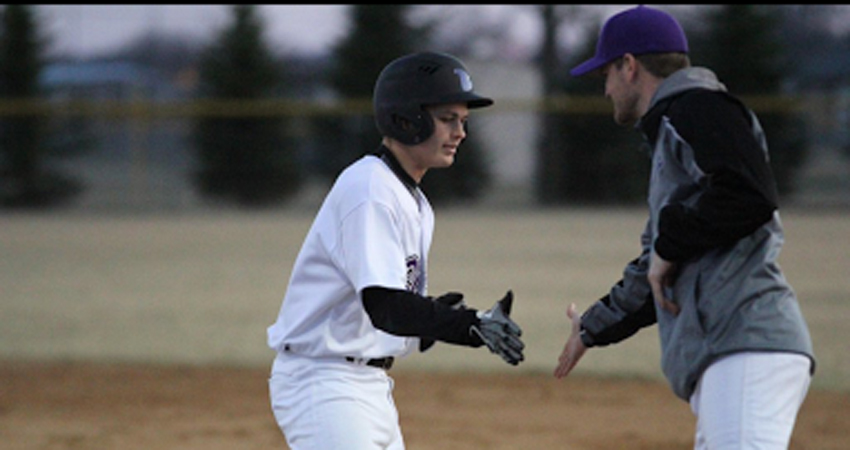 54 baseball players, 3 hour bus ride to Moorhead, Minnesota, 1 coach bus. It was the most anticipated trip of the year when the Bison Baseball Team hit the road for a game under the lights against the Moorhead Spuds. The bus became jam packed as all the players boarded the bus. Before the journey began, Head Coach Mike Beilke barked these orders, "remember this isn't our bus, pick up your trash, do not wreck anything, leave the bus better than you found it, and have fun of course", he said.
Spirits were high during the long bus ride. Players brought along miniature speakers and listened to music, talked and joked around to pass the 3 hours. Kids drug their stiff bodies off the bus to try and get ready to play the game. Kids loosened up as they warmed up and took batting practice. But moods quickly changed as the Bison were 10 runned in 5 innings of play. With their heads down, players slowly boarded the bus to start the long journey home.
The bus was dead silent as it departed from Moorhead. "A lot of players were very frustrated, a few of us started talking about what went wrong in the game. No name calling, it was a team effort on a loss", said Senior Catcher Luke Merz. One pit stop before leaving town, grab 30 boxes of pizza for a meal on the way home. Once everyone has their food, it starts to get a little more noisy, someone cracks a joke and laughter fills the air. Moods start to lighten up as kids started to talk more and more. But not everyone is over the loss. One player who is sitting in the back left of the bus is silent looking out the window.
"I'm different than everyone else, I'm a lot more competitive and a lot of kids look at that loss and say well that sucks. Not me, I'm embarrassed after a loss like that", said senior Luke Merz. For him, it's a 3 hour bus ride to think about everything that went wrong. 3 hours to think about how the season hasn't been going as planned. 3 hours to just sit and think. "I only have 4 years of high school baseball and I'm already down to my last few games. It really makes me think a lot when the team goes down like that", said Merz.
The baseball team has struggled to find success even though they have had a talented team the last few years. Struggling the last 4 years to put any sort of playoff run together at the end of the season. "I've seen a lot of seniors go out in a lot of bad ways. It makes me realize that I don't want to end that way. It makes me nervous that I'm going to end like that, I don't want to end in a bad way, I don't want to be one and done in sections", said Merz.
For some, it's 3 hours to have fun and bond as a team on the way home. For others, it's time to reminence on the season. You need to hate to lose, more than you like to win.