Student Care Committee: Bringing you happiness and health through random acts of kindness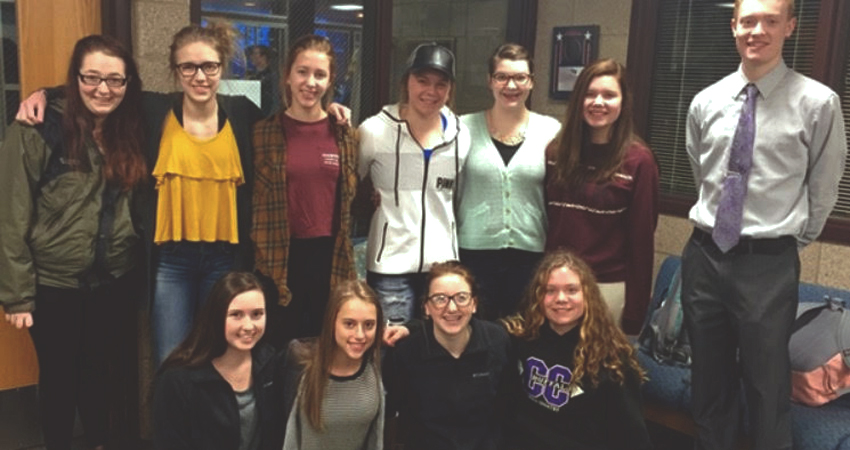 Student Care Committee (SCC) has been dedicated to helping students at BHS ever since it was founded 14 years ago, and now works closely with Buffalo's Bounce Back Project. The Bounce Back Project is an organization dedicated to promoting health through happiness, and Buffalo and Montrose school districts are the 1st in the nation to partner with Bounce Back and really integrate their concept into their schools. When the Bounce Back Project came to Buffalo looking for an organization to jumpstart the project SCC was almost too perfect of a match. SCC's motto is " Bringing happiness through random acts of kindness," a very similar concept to that of the Bounce Back Project.
Bounce Back has helped to shine a light on this little committee after 14 years of being hidden in the shadows of a larger similar group named Students Stepping up(SSU). The group does a very good job of making themselves well known at BHS, and has over 100 members. SSU works to organize the sales of Valentine Carnations and Veteran Candy Canes, and travel to elementary schools on Friday to help teachers tutor the young children. SSU is so big and so well known that students that want to make a difference in the school often sign up for SSU without having even heard of SCC, which may be the reason SCC has 29 students compared to SSU's 100+.
Student Care Committee's biggest year-round project is their "Gratituesday" notes that they deliver to members of different organizations thanking them for all that they do for Buffalo High School. They also worked to organize the school's " Jeans for Teens" fundraiser that takes place all throughout December. Teachers pay to wear jeans the whole month, and the money goes to help pay for care packages for students in need. These packages are delivered to students on all ends of the spectrum, including homebound and hospitalized students. The care-packages often consist of basic necessities ( i.e. shampoo,conditioner, bars of soap) as well candy and a greeting card.
The most famous care-packages show up around Christmas time, the money raised from the Jeans for Teens program is used to by a variety of different gifts for students in need. The students on the committee line up assembly line style and drop toiletry items, as well as other gifts such as travel mugs and headphones, into a gift bag. Afterwards,  the head of the committee Mrs. Krista Kern, goes through and personalizes the gifts. She adds money for gas, or a gift card to a grocery store tailoring the gift to the need of each individual student. The whole town pitches in for these care-packages, some stores donate gift cards, others send money, or send products from their store.
The advisor of the committee, Social Worker Mrs. Kern, finds immense joy in seeing students put so much time into helping their peers.
Over the course of time that Mrs Kern has run this committee she has found that, "Seeing this little committee grow from just a tiny group of people to a large group striving to bring happiness has brought me such joy. My job is to help students, and seeing the way the students in the committee want to help others the way I do is such an amazing thing to be apart of, let alone run."
From "Gratituesday" notes delivered by 1st block teachers, to little caring acts demonstrated both in and out of school, Student Care Committee strives to bring everyone happiness and health through their random acts of kindness.