Creating the Final Countdown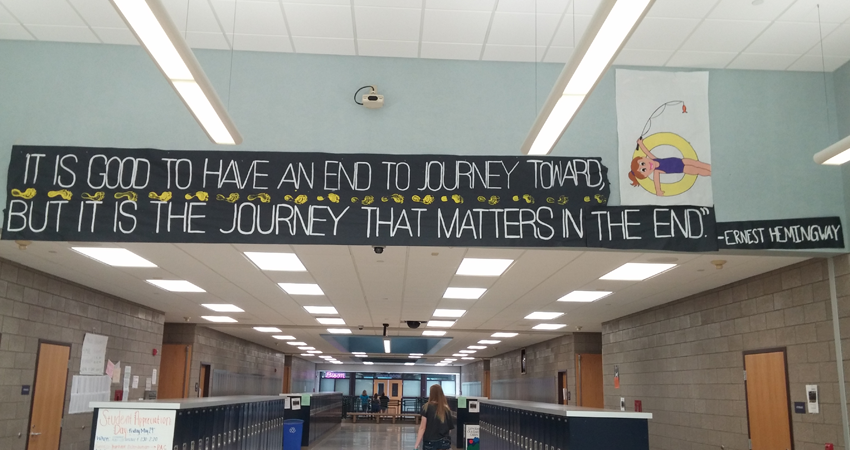 Every year in the senior locker bay area, there is a countdown from 10 showing how many days are left of school before summer break officially begins. It is also counting down to the end of the journey for all of the seniors who will be leaving Buffalo High School at the end of this year.
Instead of just normal numbers on the posters, like in past years, this year's Senior Class Cabinet decided to make the posters relate to this years quote which is, "It is good to have an end to journey toward; but it is the journey that matters, in the end," by Ernest Hemingway. "We had to come up with the quote and Anna Demgen found that quote and we all decided we liked it so we all figured out what could go with it," said Senior Madi Phyle. "We did things that had to do with journey and moving, like there's a bike, a boat, one's a parasail and the one for the last day is a rocket ship."
The Senior Class Cabinet members are proud about the creativeness of the posters. They worked hard on the posters to make them different from past years' countdowns. Some students may like it more because it's something different, while some students don't like the fact that there is a countdown at all.
"I think it's a more creative idea [this year]," said Senior Jon Thielen. "There was more design to it than previous years. However, having the countdown constantly there and wanting to remind people how long they have left really doesn't go well with trying to enjoy every single moment."
Students are not alone in this view, some teachers such as English Teacher Joel Squadroni feel that "The more you count down, the less time you have to enjoy life." Read more in a previous hoofprint.net article here.
What do you think?