Student Council and Tatanka Yearbook prepare for Student Appreciation Day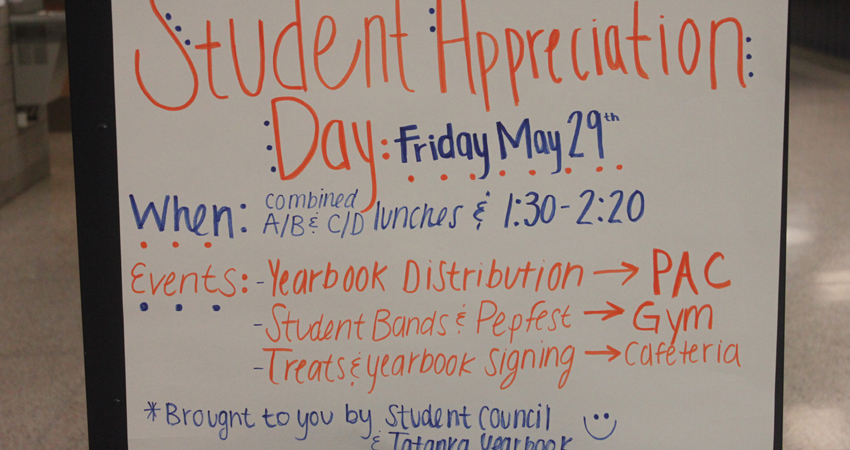 Student Appreciation Day is an annual tradition that occurs on the last Friday of the school year. On this day, the student body is celebrated along with the coming of a long awaited summertime. Each year, the Student Council and Yearbook make small changes to the previous year to make the day unforgettable.
"We've been preparing for Student Appreciation day for a while, we have to find a list of teachers to work at each area, order things, and find bands to perform. It's a lot of work, and we've been working hard on it. It's fun to plan though, and an exciting day," explained Student Council member Allie Palmer.
This year, the food service will provide the school's top lunch choices voted on by the student's; Cheese Sticks with Marinara and French Toast Sticks.
"We make a larger quantity of food than on normal days. It's a really fun day for us, we enjoy it," explained Katie Lohse a lunch lady at BHS.
As always, the lunch periods will be lengthened and time spent in the classroom will be shortened.
"A&B and C&D lunches are combined. Students are excused at 1:30 for a short assembly, followed by an ice cream social and student music in the cafeteria gym," explained Assistant Principal Kris Thompson.
Not only is Student Appreciation Day a time to celebrate and to enjoy music produced by various student groups including two freshman groups and one senior group , but it is also yearbook distribution day.
"The yearbook staff gets out of first and second block to go set up the PAC and prepare for everyone to come in and get their books. It's really fun to see everyone looking at the book at lunch because everyone is on a different page, and saying something different about it. We get to see them early, and it's really cool to see all our hard work put together," explained yearbook member Tommy Peterson.
Student Appreciation Day will take place on May 29th throughout the school day. It will be a fun day of entertainment and a recollection of memories for the 2014-2015 school year