National Merit, and the winners are?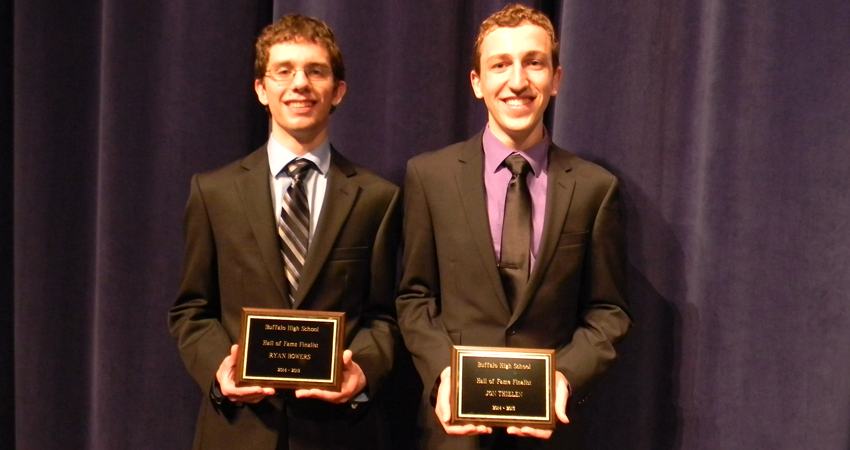 Jon Thielen and Ryan Bowers received the National Merit Recognition at the Buffalo High School on May 11th. The competition for inclusion is fierce and the criteria for selection is rigorous. Applicants enter the selection process by taking the Preliminary SAT/National Merit Scholarship Qualifying test in the October of their Junior year. The test screens 1.5 million applicants. Of those, roughly 0.005% receive the coveted award nationwide.
"It starts with your PSAT test your junior year and based off your score there, you are given a selection index and Minnesota was about 215 for a required score," said Senior Ryan Bowers. "Once you are elected to be a Semifinalist, from there you have to send in a full application, resumé, and you have to take the SAT as well and show that you haven't started failing at school and the intermediate period. From there you move on to be a finalist and about half of the finalists get a college scholarship."
About 16,000 semifinalist remain after you take PSAT and from there you have to do several  other requirements in order to be a finalist. There will be about 15,000 finalists and only about half of them will receive Merit Scholarships. For more information click here.
Both Jon and Ryan have big plans after graduating from high school.
"I am going to Iowa State University, planning on double majoring in mathematics and meteorology with hopes to go into a career with research in meteorology," said Senior Jon Thielen. "I know I'm going to go for a masters and probably a PHD after that."
"I will be going too the University of Minnesota in the Twin Cities to study aerospace Engineering," said Bowers.
The city of Buffalo, students and administrative staff of Buffalo High School congratulate them on their achievements and commitment towards success and their desire to push themselves too the highest level.