Inside Scoop on the Sadie Hawkin's Throwback Dance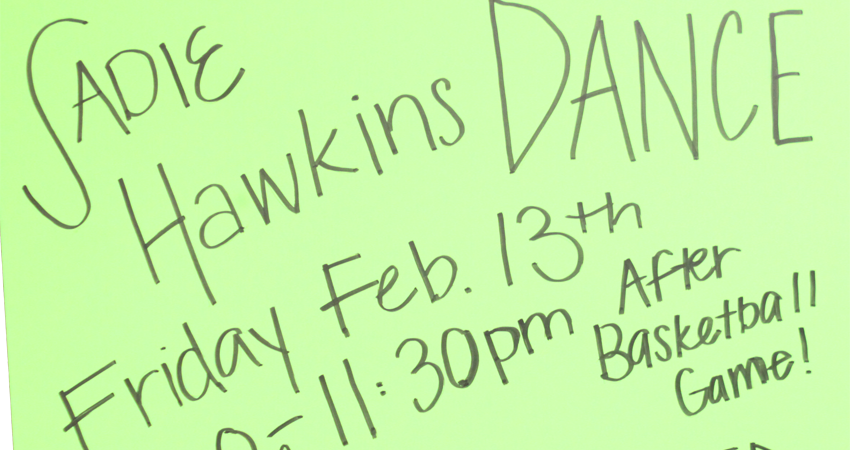 The rumors are true, the Snow Daze dance is making a comeback this year as the Sadie Hawkin's Throwback Dance. Instead of it wrapping up the Snow Daze week, it will kick off the week. The dance has faced many changes this year to make it more enjoyable for the student body. After taking a one year break to revise the concept of the Snow Daze Dance, our administration has allowed it to continue this year.
"They wanted to take a break (the administration) […] hopefully kids will be better behaved" said Scott Palmer.
Two years ago, there were a few instances with inappropriate behavior at the dance, this is just one of the reasons that the dance was cancelled for the year. Our administration is looking for the students to become more responsible, and to have a more positive experience at a school wide activity.
"We are taking on a different look at what Sadie's could look like. [..] its a wonderful opportunity for kids to be social with their friends and with their school. […] there have been happenings in the past with kids at dances that have been frowned upon by other students" said Nick Guida.
This year, the dance has many noticeable changes, it has a new concept that has allowed students to request music to be played. To help increase student interest in the dance and to increase student responsibility, the Student Council sent out a link by email and through social media to request music to be played at the dance that was from the year 2010 or before.
"The playlist is something that is really being considered […] school dances should be a lot like a wedding dance" said Guida.
The newly revised Sadie Hawkin's Dance will take place on February 13th after the Coaches vs. Cancer Basketball game.