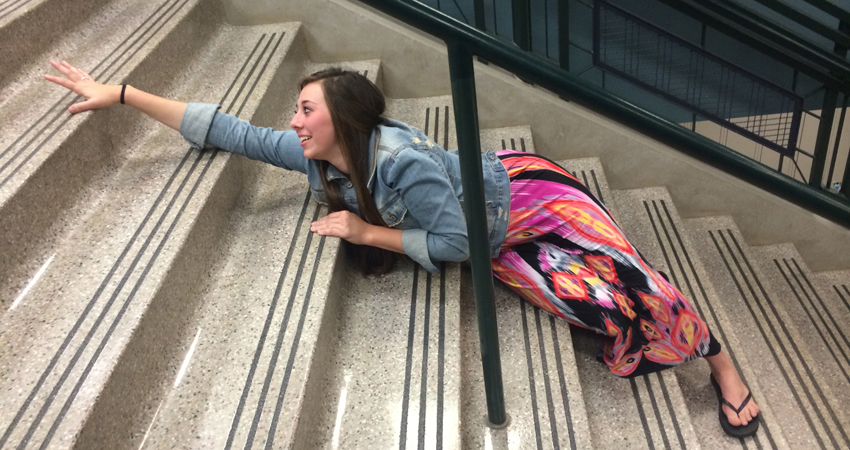 (This story may be a bit dramatized. Viewer discretion is advised.)
The struggle is for real; What Buffalo High School students have to go through is breathtaking, leg aching, joint crushing, and sweat producing. The 22 step climb to the top can be one of the hardest things a student at BHS will have to experience throughout their day.
"Its my max exercise for the day.  I'm so winded when I go up and down the stairs, it's definitely the most exhausting part of my day," said Senior Presley Rumsey.
"People are running a marathon right now and I'm having troubles walking up a flight of stairs," Freshman McKenna Kunesh.
"I stop and take a break, or I just slow down really really slow and make my way up. My legs get heavier as the trek goes on," said Junior Sydney Warehime.
"Sometimes I have to check my pulse when I finally reach the top. I always watch my legs flex as I walk up," said Junior Sydney Driver.
"I get leg cramps everyday of my life from those horrid stairs," said Senior Casey Anderson.
"I use the railing to lift myself up and still have to take breaks and catch my breath," said Sophomore Callie Liska.
"It hurts a little inside every time I get to school, knowing that I have to climb those stairs at some point during the day," said Senior Michael Otten.
"It's one of the biggest struggles of mankind. THE STAIRS," said Senior Mason Cox.
"I feel like a fat piece of crap when I walk up the stairs. You'd think being in long distance would help and make it easier for me, but no it still is one of the hardest things," said Junior Reed Morehouse.
"I bet Reed Morehouse feels violated because everyone probably stares at his hot butt as he walks up the stairs," said Junior Maverick Flesher.
"I think we need the stairs, otherwise we'd be one fat school," said Sophomore Jacob Jones.