Soden's Journey Through Marching Band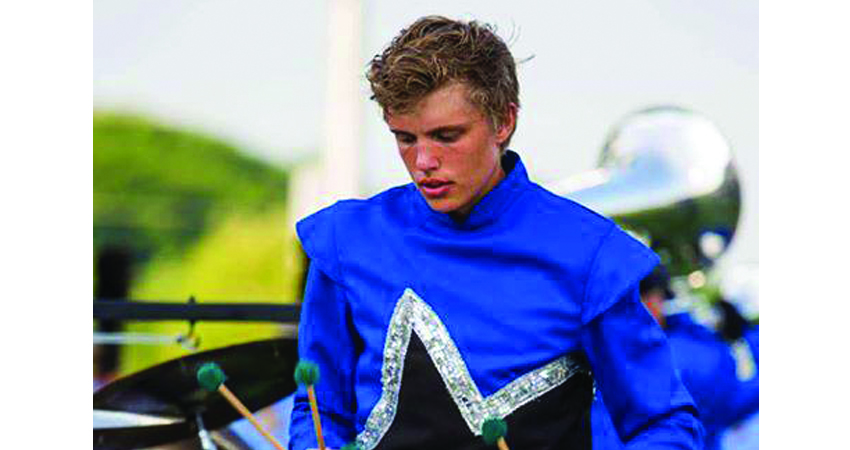 In eighth grade, Senior Nicholas Soden joined marching band, not expecting to continue marching outside of high school. As a couple years went on, Soden realized that this was a huge part of his life and something that he wanted to do in the future. The opportunity came to try out for one of the top 12 drum corps, the Blue Knights Drum and Bugle Corps.
"They're one of the drum corps that gets to the finals every year. They tour across the united states for the entire summer. I heard about it from my former instructor at Minnesota Brass because he teaches there. I then decided to go to the audition camp in November. I got a callback to the January camp. I went back for my final callback and I made it," said Soden.
The Blue Knights Drum and Bugle Corps tours from west to east during the summer and is based in Colorado.
"We'll start in Washington, Or, California, and then we'll go through the western states like Colorado, and Wyoming, and then we'll go to the east coast. Finals is in Indianapolis, so that's where it finishes. We perform at really large venues, like football fields. Finals is at the Colts Stadium in Indianapolis," said Soden.
For Soden, Drum Corps is more than just playing hours on end to get better at his instrument. It also teaches lessons that will stay with him for the rest of his life.
"It does a lot for your playing. I'm looking forward to improving my playing. I heard it kind of changes your life in a way, because you meet so many people," said Soden.
This opportunity to play with the Blue Knights Drum and Bugle Corps comes with a price. Soden has had to fundraise throughout the year to be able to be a part of this group.
"I want to do it as much as I can, but its really expensive. I saved up through work, but at the beginning, when I auditioned, I didn't think it would be able to do it because of the money. I decided to use a site called Go Fund Me where you just kind of post what you're doing and people can donate to you," said Soden.
To help Soden raise money for his summer journey, you can go to his Go Fund Me page.