"It was the best game I have ever seen." Bison Advance to State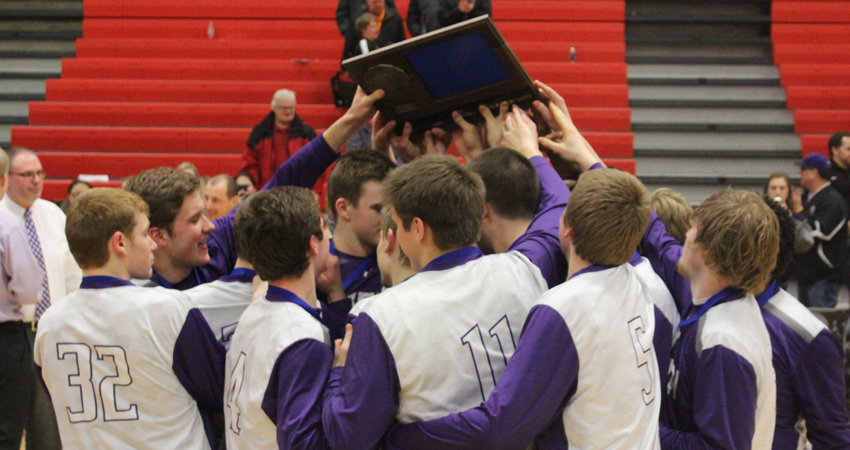 After over two hours of play time and five overtimes, the Boys' Basketball Team earned a thrilling 83-75 win over St. Cloud Tech to advance to the State Tournament. Students and fans rushed to the center court after the win to celebrate with the team.
"It was the best game I have ever seen," said Senior Danielle Odeen, "but it was also the scariest game I have seen."
I've been a hockey guy my whole life, but that game tonight was one of the top 5 games of any sport at any level I've witnessed, or covered.

— Rob LaPlante (@laplante71) March 7, 2014
The team entered halftime trailing by nine, 28-19. They couldn't get all the quality shots they needed and their nerves led to some rushed possessions.
"Our team missed a lot of easy shots in the first half. That was our biggest downfall," said Senior Sam Ortmann. "We just had to get back to how we were playing in the beginning of the year."
"I just think we were playing a little timid and scared in the first half," said Senior Collin Olmscheid. "Probably because everyone was kinda nervous."
With the gym being so loud you couldn't even hear yourself think, it pushed the boys even more to get the win. "It sounded like we had about two times more fans," said Ortmann. "It motivated me in the beginning of the game when they just announced the teams. Our fans were a lot louder, I thought that was going to set the tone for the whole game."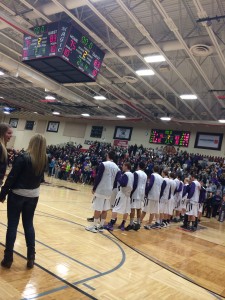 They started to come back in the second half. The team pushed it into the first of many overtimes and the crowd got louder and louder as the game went by.
In the fourth overtime, St. Cloud's star player, who had the majority of their points, got fouled out. "Momentum changed when he fouled out," said Olmscheid. "We had the momentum already and then we were all pretty fired up about it. It was kind of the turning point for us."
The turning point of the game was in the middle of the fifth and final overtime. The team started to get the lead on St. Cloud Tech.
"The moment I realized this game was ours is when [Junior] Jonathan Senger got a steal and they had to foul and he made two free-throws that put us up by four and sealed the deal," said Ortmann.