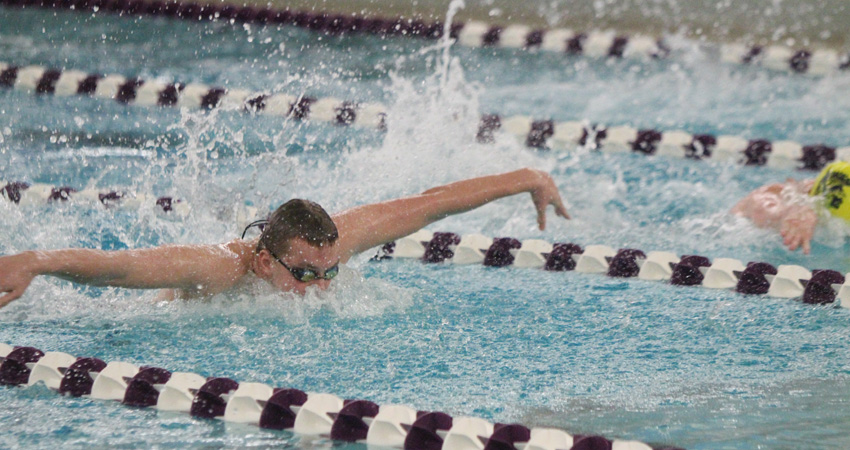 Freshman Joshua Muntifering spends most of his time in the pool. He is a standout swimmer on the Buffalo High School's swim team with records in multiple events. He even trains in the offseason 6 days a week, racking up to 14.5 hours each week of time spent training for the 2013-2014 season.
"I had a three week break after sections last year, and then I pretty much went right into it and started training for this year," said Muntifering. "My goal was definitely to make it to state in both of my individual events."
For the BHS swim team Muntifering was the only swimmer with the times that would put him in state positions at sections. The top two places in sections make it to state, Muntifering was seated Number two in both of his events meaning the other swimmers looked at him as the one to beat in sections.
"It was a lot of pressure at sections this year. People were mostly looking to beat me so they could get second place and go to state. I was pretty much the guy to go after," said Muntifering. "There was a lot of pressure on me from the team also just because this was basically do it or bust, It was the year to just do it and get to state."
Muntifering had placed second in his first individual event which would send him to state with a time of 2:01.09, breaking his own school record from last year by two seconds.
"I got sick right after I finished my I.M. because I just went balls out, but It still felt amazing when I saw my time," said Muntifering. "After I got sick I just went outside to get some cool air, then I started feeling pretty good, and the adrenaline just started pumping."
Muntifering had to prepare for his next event which would be his 100 backstroke. In which he also placed second in and would be heading to state with a 54.87, once again breaking another old school record of his.
"At state I really just want to have fun. Its my first year going as an individual so it will be cool to get the experience," said Muntifering. "And this is going to be really hard but my goal is to get top 16 in my 100 back. I'm currently ranked 19th, but im .2 seconds off of 16th."
Muntifering will be diving into the pool Friday the 27th to start his prelims at the University of Minnesota's Aquatic Center with fellow teammate and diver Hunter Brings joining him.