After School Weight Lifting Program
Are you in between sports? Or just trying to stay in shape? If you want to stay fit without paying for a health club membership, I know just the place for you to go.
From 2:30 to 4:45 on Mondays, Tuesdays, and Thursdays you can be a part of the after school weight lifting program at Buffalo High School. You don't have to sign a form or add your name to a list, you can come once, or you can go till the last week of school. You can walk in to lift at 2:50 or 4:30- it is completely up to you.
This program has been happening at BHS for many years. Previously the adults who supervised the weight room after school were just coaches during their off seasons, but in 1999 Troy Hanson was the first to be hired full time in the weight room.
"This gives students an opportunity to improve their physical fitness and athletic performance," explains Hanson. "I also work with sports, and help out the coaches with team and individual work outs."
You can lift whatever weights you would like while there, a purple sheet is provided with lifts to do each day to give your work- out some structure. The sheet recommends starting out with warm- ups, such as leg swings, bikes, or rope jumping. At 3:20, Hanson leads abs in the weight room, at 3:30 it is flexibility, and at 3:40 they work on agility/conditioning/speed enhancement. Those are totally optional.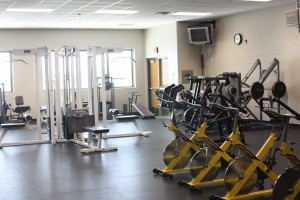 Many students who come after school to the weight room participated over the summer in a similar program, Strength & Conditioning. The program runs from June to August, and is at 7 am, 8 am, 9 am, and 6:30 pm in 90 minute sessions. These sessions consist of a group warm- up, weight lifting, abs, and conditioning. If you attend this summer activity with perfect attendance for two years straight, you can earn an athletic letter.
Besides lifts like the bench press, leg extensions, and lat pull-downs, you can go on the stationary bike, elliptical, or the pull- up machine. There are also at least 15 lifts you can do with just a dumbbell alone. If you ever need suggestions for lifts to do, just go and talk to Hanson- he can figure something out for you.
"I attend the after school program because I enjoy weight lifting and it keeps me in shape," says Junior Sam Kemp.