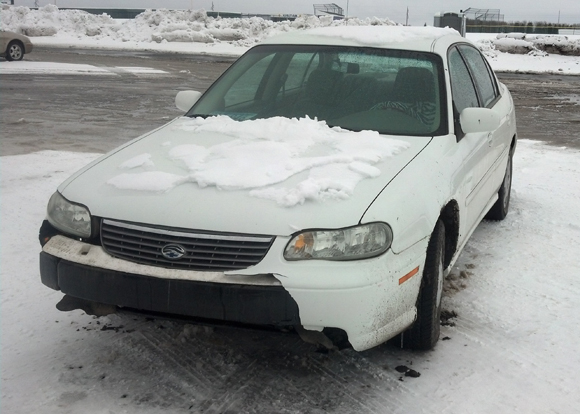 Snow, Snow, Go Away, Come Again NEVER.
"It's not just people that live in Buffalo that had to drive to school. There is the art magnet kids who live in Brooklyn park, Elk River, Corcoran, and even just the Hanover kids," said Junior Caitlyn Holm. "The people that live so far away should get reimbursed for driving here and having to turn back around and drive home."
Students were just arriving to Buffalo High School this past Thursday when the announcement was made that their was a last minute school cancellation, causing an uproar among the students.
"I don't live here, I live in Big Lake," said Senior Lindsay Hartfield. "It took me an hour to get to school. I was already in school, at my locker, when Mischke came on the intercom saying that we could go home. At first, I didn't believe it, because why would they have us drive all the way out here and then have us turn back around. You could barely even see the roads."
"After leaving school on the snow day, I was driving to the Holiday Gas Station to get something to drink. I was driving towards Coborns and was coming to a stop light that was changing to yellow," said Junior Josh Robinson. "I went to brake and my car kept sliding and I got T-Boned. I only have a two door car, and my whole passenger side won't open. My friends have to crawl over my driver side to get in now. I wish they would have called school earlier because then I would have stayed in Hanover and the accident would have been avoided."
With the amount of snow that fell and freezing rain, roads were slippery the next day on the way to school.
"My car wouldn't stop, I just lost all traction. I plowed right through the stop sign. Clearly the stop sign won. I tried to brake but I couldn't stop, and then I saw the stop sign and I just closed my eyes," said Sophomore Samantha Peters. "I don't really have a bumper anymore, it's just duck taped on."
The April snow continued to fall the following week, allowing the high school students to get released an hour early on Thursday.
"I think it's a great idea that we got out early," said Sophomore Nicholas Swearingen. "It's keeping our kids safe so we can all get home before the snow gets really bad."
Last year during this month, the average temperature was 60.58 degrees. Students are wanting that warm spring weather to start coming around.
"I think this Minnesota weather right now sucks," said Junior Clay Schuster. "I just want to be outside in the nice warm weather and longboard. I was outside for like one day this month and then the snow came again, unfortunately.
 Story by Bailey Hanson & Maddi Herzfeld
Photos by Maddi Herzfeld