Students Stepping Up: Informational Meeting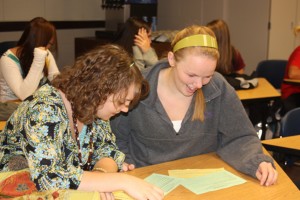 Last Monday, Wednesday, and Friday were the informational meetings for Students Stepping Up (SSU).  Social Studies teacher and SSU advisor Tracy Hulley sent out a letter that said SSU is an organization the encourages and promotes chemical free leaders.  According to a letter Hulley sent to teachers SSU members help the district in a variety of ways. Members help the district by being elementary helpers, planning the Youth Frontier Retreats, holiday gathering,  fundraisers and drives, impact retreats and more.
During the  informational meetings Hulley said, "They learn what SSU is, what we do, they take a contract with them to join and during first meetings kids can sign up to be a elementary helper."
The SSU Contract has a belief statement containing four things. The first belief statement is, "We believe that strong student leadership can help students set goals, resist influences to use chemicals, and reward safe and health behavior." The second belief statement is, "We believe that students can play a powerful and positive role in helping to prevent chemical use problems among their classmates." The third belief statement is, "We believe that all student leaders can be encouraged and assisted to be chemically free role models for their peers, regardless of past choices and behavior." The fourth belief statement is, "We believe that positive student leadership is a key component of any school or community effort."
"Make a pledge to be chemically free and to be a role model to other students on the district," Hulley said about the requirements for being a part of SSU.
Last year there were 200 people who pledged, and this year it increased to 267 people who pledged.
"I am stunned. I am amazed. You always look for numbers to increase but that's a lot. I am also very aware that even though people pledge, some won't come to meetings." said Hulley. "But that's ok. SSU is about helping out when you can and staying chemically free."
Hulley hopes the groups take this pledge seriously; being chemically free and a good role model is what SSU is all about. Hulley has many hopes for this years SSU group.
"I hope as many kids in elementary helpers as possible, provide positive role leaders to 7th grade courage retreat, put together a successful fundraiser, and help provide impact leaders in spring," Hulley said.
This year 120 students signed up for being a elementary helper, and only 60 elementary teachers signed up for student helpers.
"The first three informational meetings went excellent." said Hulley. "I saw a lot of familiar faces; kids who have been involved for three or four years. The second meeting majority of members weren't members in the past."
Hulley comments about how amazed and happy she is about the increase of participants and hopes the year goes well.
For more information about upcoming meetings look at the television announcements.