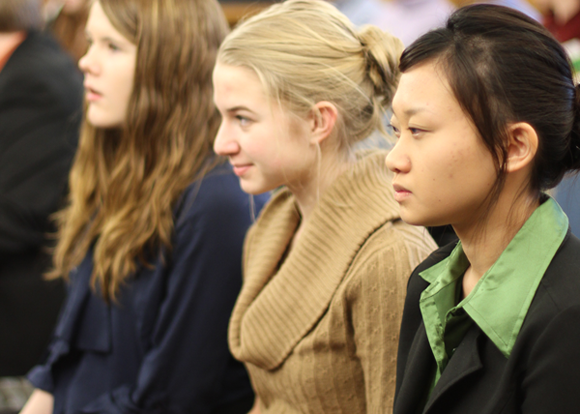 The pressure was on as the Junior Varsity mock trial team took the stand at the state competition on March 12 and 13.  Out of the team two members received awards recognizing their accomplishments.
At the state competition two people from every team receive either All State Witness or All State Attorney. In each trial the judges vote on who they think is considered to be the best attorney or witness on both sides, and at the end of the three trials whoever has the most votes get the award.
Freshman Maddie Schwappach received the All State Attorney.
"I was really excited, the trial was kind of stressful but fun," said Schwappach, "[My team] was excited for me."
Junior Michelle Lee was honored with the All State Witness award.
"I was speechless, I didn't think I was deserving of it," said Lee, "there was a lot of cheering."
"It goes without saying they worked hard," explained JV Coach Swanson. "It's the fact that they worked hard as well as the rest of the team. It was a combination of their diligent work and natural talent. Maddie as a ninth grader shows great confidence as a lawyer, and Michelle makes a convincing expert witness. I'm proud and excited for them."