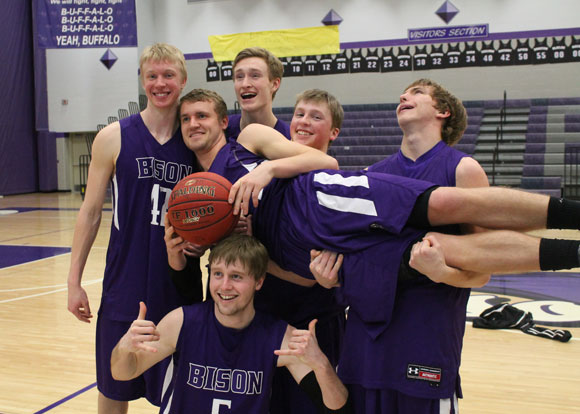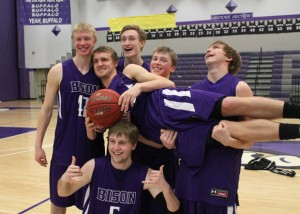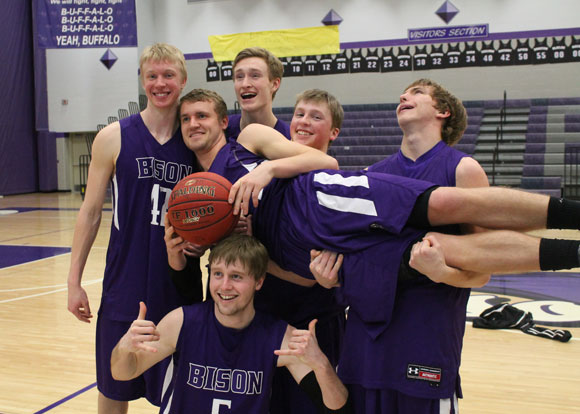 Drives in the lane, shoots and makes it, foul, and one. The crowd goes wild and the student section holds up four signs: 1 0 0 0. Senior Ethan Freer scored his 1,000th point.
"My mom told me I was 13 points away before the game, so I wasn't positive I'd get a thousand," Freer said. "When I got 11, the fans said something about it and it crossed my mind other than that I hadn't thought about it all game."
Immediately after scoring the lay up his teammates congratulated him on the court. He was presented the game ball that he delivered to his mother in the stands who greeted him with a big hug.
"It felt pretty good having my teammates give me a group hug. Those guys are like my brothers," Freer said. "I got to give my mom the ball and give her a hug. I knew they were proud of me and that was cool."
The composed Freer has been a player for the Bison Boys' Basketball team since his Freshman year. Freer now joins the 1,000 point club, and the boys' season is still at full strength. The Bison were victorious over Bemidji last night and will play Cambridge tomorrow night in Cambridge. Good luck to the boys' team in the rest of their season.