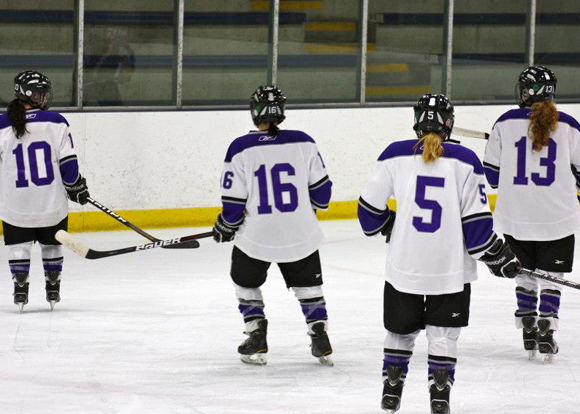 The Girls' Hockey team is on fire, and their 20-6 record proves it. Section 6AA will test their skill. With four of the top ten teams in the state are within their section (the Bison Ranked #6) the girls scored the #4 seed for their section. The girls faced #5 seeded Wayzata this past Saturday.
Sophomore Kirsten Olson scored the first goal of the game within one minute of play. Shortly after, Freshman Allison Roethke sniped a slap shot. The Trojans answered by scoring once in the end of the first period.
Second period, Wayzata tied it up 2-2. The Bison took the lead with a goal from Senior Katie Rooney. The teams continued to be neck and neck after the Trojans scored and the teams were tied 3-3 after the second period.
Delano Freshman Abby Halluska scored early in the third. Bison were leading 4-3, then at the end of the third period Wayzata tied it up again.The game was intense, but finally Senior Emily Varner scored the game winning goal with just minutes remaining at the end of the third period. The Bison successfully held the Trojans, and now move on in section play.
"I was so happy I scored, but there was still three minutes left," Varner said. "Wayzata had been answering our goals all game, so I just hoped our tight D would hold'em."
The Bison are scheduled to play #1 Minnetonka at 5:30 this Wednesday at Parade Ice Garden in Minneapolis. Come support the Bison who will work to upset Minnetonka.