Varsity Girls Soccer Wipes Out Becker 5-0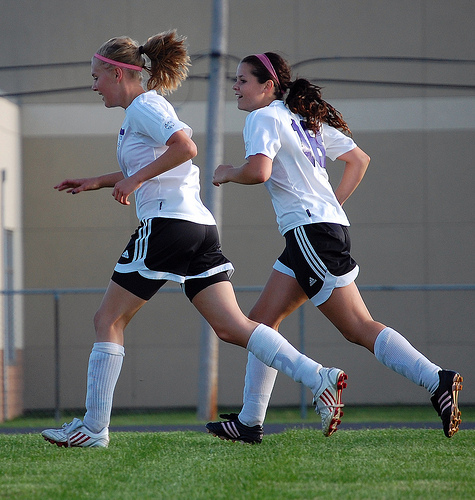 The varsity girls soccer team played Becker on Thursday night at the high school. They were originally scheduled to play on Cummings field stadium at the middle school but with the construction of the new track it got moved over to the high school. With the game being moved over to the high school it was also moved up to a 5:00 start time which is a change for the girls.
In the 1st half it seemed as if the change was bothering them a bit. The girls kept the ball down in the offensive zone but for some reason they could not punch the ball in the net. Then late in the first half it seemed as if they settled down and relaxed and Olivia Haggerty was able to put them on the board with their first goal. Soon after that Beth Leipholtz got a rebound of a shot and put their 2nd goal of the game in soon before the end of the first half.
"We played really well as a team." Said Leipholtz, "We calmed down and passed the ball on the ground instead of sending it high."
It was 2-0 Buffalo going into the half. Buffalo was expected to run away with the game which is exactly what they did in the 2nd half. With Shana Roberts scoring the 3rd goal of the game early into the 2nd half followed by Rachel Mussell and another goal by Leipholtz towards the end of the game. The Bison shut down Becker and got Sarah Spande the shut-out at goal keeper.
The Girls are 4-4-1 this season and they bounced back very well after a tough loss to STMA.
"Well it was Becker, I mean it's not STMA or Rogers but it was a good conference win for us." Said Leipholtz.  After having a good game.
The Girls are still in the chase for the conference title and if they keep playing well they have a very good chance at winning it. Their next game is in Alexandria on Saturday at 1:00 p.m. Their next home game is Saturday September 26 at Cummings field at 11:00 a.m. The girls seem to be having a good season after adding new head coach Steve Doimer this season. They are a very young team with only one senior, Ally Pecarina but maybe they will be able to return to the state tournament this year and have a chance to take the title.