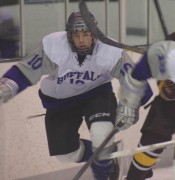 With two games left in the year, boy's hockey already has three more wins than last season. After losing to the Monticello Magic on February 2, they have five wins and two losses in conference and are currently in first. The last time that they won conference was in 2009. Since then Buffalo has yet to put out a winning season.
"We have a younger team that isn't as experienced but more disciplined," said Senior Joe Hayes. "I feel that if we win conference we will play better in sections because we will have more confidence."
This season compared to last shows a big difference in how Buffalo, as a team, has improved.
"We have played better because we have a lot of chemistry on the ice," said Junior Justin Laven. "The players and coaches have really stepped up their game."
The Bison have one more game against Cambridge-Isanti. A win against them would clinch a conference title.