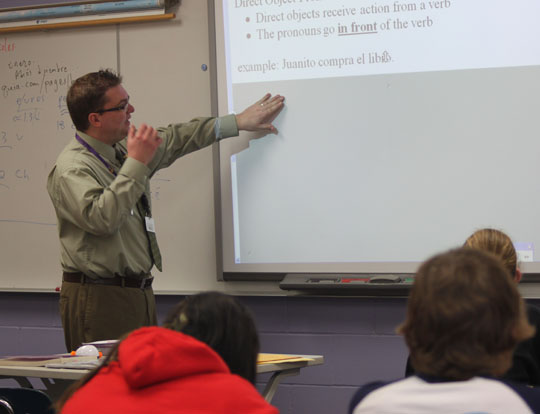 Learning a New Language in a New Exciting Way
"It's a new experience", said Spanish teacher Daryl Boeckers.
Boeckers is going to be teaching Spanish One Hybrid class in the Fall of 2013. The curriculum is going to consist of face-to-face and online learning.
In this Spanish hybrid class, there will be four days of online learning for every six days of face-to-face classroom time. This creates more flexible schedules for students while preparing the students for college and university online learning environments.
Online days will require students to have homework done at home. In order to do this class, students need to have an Internet connection. The online portion of this class will be on courseweb. Students will expect video recordings, audio dropboxes, and ordered lists on these online days in order to achieve communicative goals.
This course is only offered for 10-12 grade and during first and fourth block.
Boeckers has been planning this hybrid class for five years.
"I am really excited about this new course", said Boeckers.
At this website you will find a detailed description of this course along with videos and a survey to see if you will succeed in Spanish One Hybrid.