New electronic device rule adds consistency
Buffalo High School had a cell phone rule last year.  It was that students aren't allowed to use electronic devices during class time and were allowed to use them during passing times and during lunch. For the 2009 and 2010 school year the rule in the student handbook states that cellular phones, pagers, laser pointers, electronic games, CD players, iPods or any other electronic or picture taking device that may cause disruption are not allowed in the academic setting, locker rooms, or lavatories unless preapproved by teachers.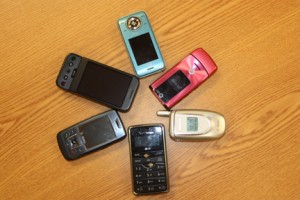 "The key is the same as before," said Principal Mark Mischke. "We have given more structure to teachers and the intent to give more consistency in the classroom."
The rule hasn't changed at all from last year. According to the administration, it's not more strict; it's more consistant. For teachers, there is a recommended policy to follow. The new policy has three recommended steps. On the first incident the teacher gives a verbal warning. On the second incident, the teacher may take the device up until the end of the day. On the third incident, the teacher may take the device and give it to administration, in which case a parent will be called and may be asked to pick up the device. When a device is given to the office, a note is made on the student's file so teachers can see if they have had problems in the past.
"Teachers have the option to have additional rules," Mischke said.
Mischke said that BHS is working in good faith that students and staff will start to follow the electronic device rule.
"The hope for the rule is to try to eliminate conflicts in classroom use of electronic devices." said Mischke. "We always can modify and adjust whenever needed."