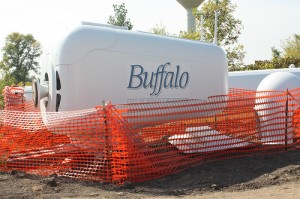 In an attempt to meet the new energy laws, where 25% of electrical energy must be provided by renewable energy sources, Buffalo and 10 other cities have been chosen to receive refurbished windmills. Buffalo is a partner with the MMPA (Minnesota Municipal Power Agency) who is providing the turbine in exchange for the use of the Buffalo High School land to construct it on. The 160-kilowatt windmills cost roughly $300,000 each, and the whole project has cost around $3.6 million according to the MMPA.
"It will be interesting to have a windmill," says sophomore Micheal Bischoff, "Although windmills are not the most practical energy sources, it will be good to have options."
The windmill is only expected to provide between 1-10% of Buffalo's energy needs depending on the wind. Beyond energy, the turbine will be used to teach  students and business's about green energy options. Some people have been skeptical about how practical the turbine will be.
"I think the whole thing is a waste of money," says sophomore Kenton Anderson, "That money could have gone to much better projects I think."
The wind turbine is still under construction, but should be done in the near future.