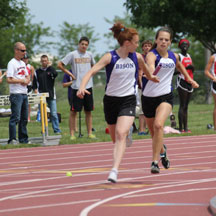 The Buffalo Track and Field team is sending 19 people to State in 22 events, which is the most State participants in Buffalo history. Sections were on Wednesday, May 31 and Friday, June 2. The State Track and Field meet will be held at Hamline University on Friday, June 7, and Saturday June 8.
Among the 19 qualifiers is Senior Eric Selchow who made it in the Triple Jump. It will be his first time at State.
"When I figured out I made it to state in the Triple Jump I started crying a little," said Selchow. "Last year I thought I could get to State, but I choked and missed the standard time for 110m hurdles by a tenth of a second. Now this year with Jerome gone, [Senior] Andrew [Gutknecht] and I felt like we needed to step up and make people want to stay in hurdles. I think I have grown a lot as an athlete this year which helped me get to State."
The Bison girls said they had "a five year curse", meaning they hadn't sent anyone to State in five years. That 'curse' was broken on Friday by Junior Emily Spier in her first year of track. She placed first in the Shotput, beating all of her competitors by at least four feet.
"I didn't even know what a shot put was before this year," said Spier. "I had no idea if I was even going to be good. After I didn't make Hamline, I was kind of pissed. So i said, 'Okay, I have to make it to State'."
Junior Tyler Olson will be competing in the 200m dash, the 400m dash, and the 4x400m relay. Prelims are Friday and finals are saturday, so if Tyler performs well in all three events he will have to run six races in only two days.
"I'm not even looking forward to State right now; to be honest, I hate track," said Olson. "It's so stressful for me, but deep down I know I actually love it.