Shifting Scenes, Ruptured Souls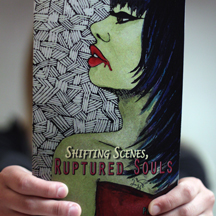 Article by Erika Voeller and Valerie Ostvig
Every year, students swarm the cafeteria to get their hands on BHS's annual literary magazine, Pegasus, which has been in circulation for 31 years. A staff of 20 editors, advised by English Teacher David Robinson, hand selected the work and published it for BHS.
"We started in the beginning of the year," said Sophomore Michael Capps, "and we still went past the deadline."
Staff members stayed after school to put the final touches on Pegasus. They edited the work and made an effort to correct any errors they found.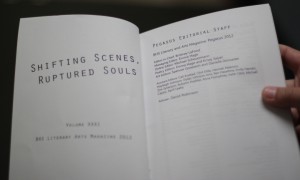 The magazine features artwork, poetry, short stories, and photography from students of all grades. This year, the magazine showcases over 90 pieces of work.The cover features a young woman holding a bleeding heart, and wraps around the entire book. It was designed by Senior Krissy Salyer, to fit the theme "Shifting Scenes, Ruptured Souls".
"It's an amazing feeling seeing people actually read your work," said Senior Hayleigh Johnson. "You're an artist and people are actually listening to what you say."
Story by Erika Voeller & Valerie Ostvig