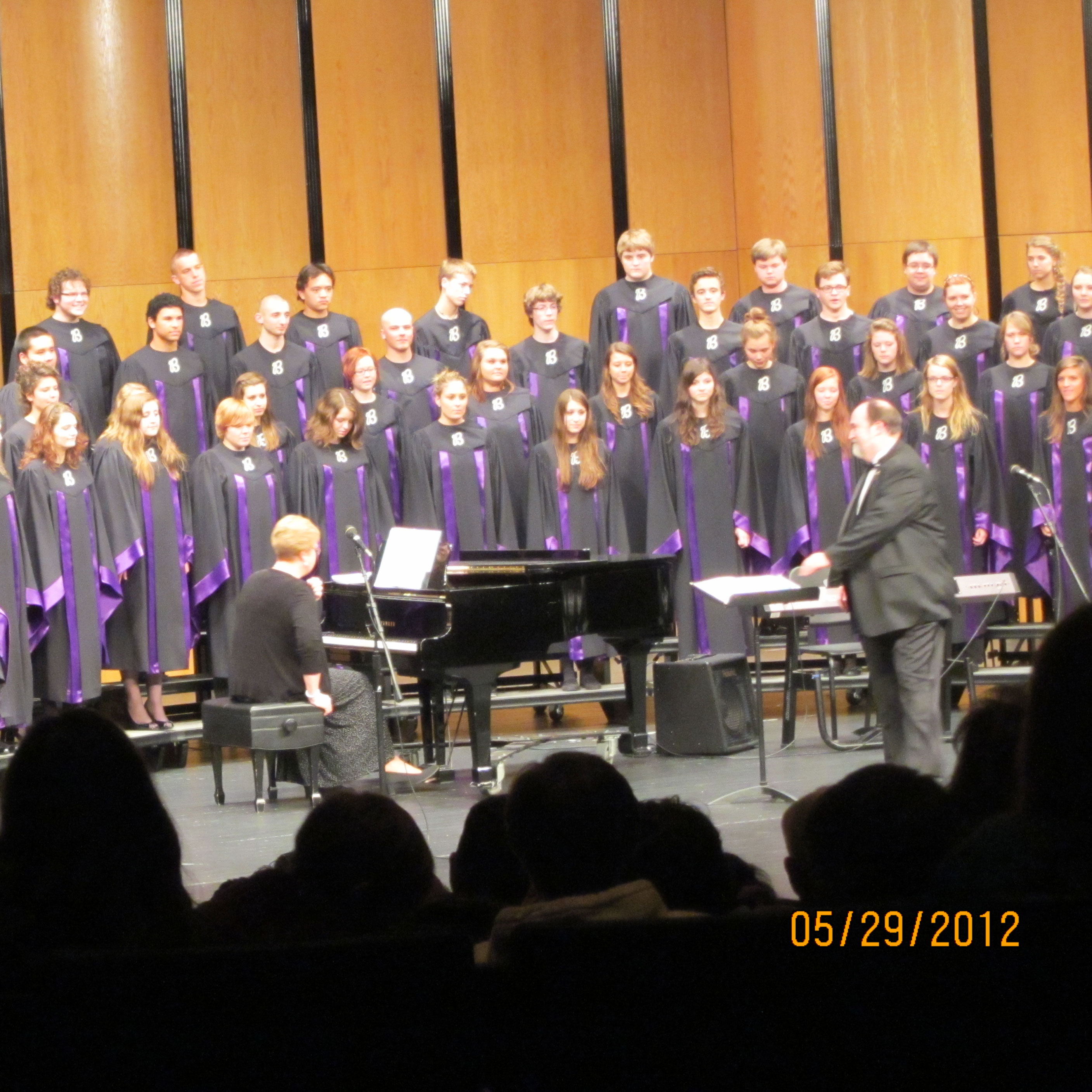 All Buffalo High School choirs came together tuesday night for their final concert of the year in the Performing Arts Center.  There was also an art show and slump bowl auction.   The art show featured artwork from students, and seniors in the capstone program showcased their art.
The concert opened with BHS Singers singing a Bebop Jazz song. Their second piece was a contemporary piece, "Hide and Seek." Director Michael Walsh chose the first, the students chose the second.
Treble Singers performed next with three songs.  Their final piece was "Somebody to Love" featuring Juniors Julia Bothun and Emma Pearson.
One of the last ensemble group was the Varsity Singers who performed The Lion King's "Can You Feel the Love Tonight."  The piece featured Sophomores Anna Humphrey, Emma Hage, Alex Haas, Bryce Bishop, and Anna Cammarn.
The Freshman Choir performed four pieces.  Their third piece was from The Lord of the Rings, and is sang partly in Elvish.
Varsity Choir also performed four songs.  Their final piece was a Medley from Hairspray.  The song featured many soloists including Sophomores Liz VanBergen, Cleo Lammers, Katelyn Miller, Jerica Braun, Erica Hoops, and Megan Shipley. The small group included Sophomores Cammarn, Katie Clem, Hoops, Humphrey, Emma Schneider, and Sydney Segelstrom.
The Concert choir performed four songs.  Their final piece was a spiritual piece, and the third from West Side Story.  Their second song, "i thank You God for this most amazing day",  was based on a poem by e. e. cummings, featured Seniors Kaelie Lund, Mia Haggen, and Hannah Walters.
The Men's Chorus sang two songs, "Loch Lomond" and "Kokomo." Junior Leif Nelson and Senior Tim Kunze were soloists during "Lomond."  All choirs came together for a final combined piece, performing "When You Believe." Seniors Allesson Stensing, Joshua Pope, Cali Kvistad, Rachel Robinson, and Hannah Walters were featured as soloists.
By Marah Moy and Kirsten Kaufman