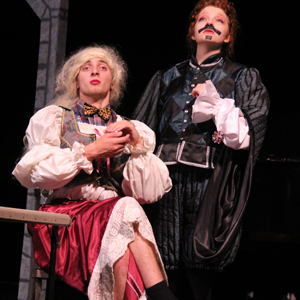 "My favorite part of the play was getting to use my clown talents. And I liked to say the title of the play, The Farnsdale Avenue Housing Estate Townswomen's Guild Dramatic Society Production of Macbath, to get people to come," said Sophomore Michael Capps.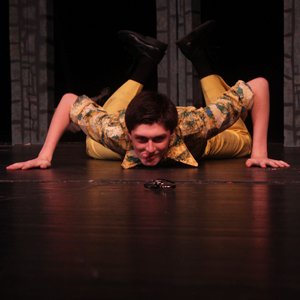 This year's Spring Play choice was MacBeth, but not like most people would think. This play was actually a play within a play. A local community theater is putting on a production of MacBeth and it was all about the things that can and do go wrong during a play. The audience was treated to shaving cream, a crowing, stuffed rooster, cackling witches, light sabers, and a fake 38 DD chest.
15 cast members each played two characters, one in the community theater and one in their performance of MacBeth.
"Making the distinction between the play and the play within the play and whether you're a character in MacBeth or the community theater is difficult. Plus it's hard to act like you don't know what you're doing, it's hard to act surprised," said Senior Elizabeth Davis
Since much of the play was improvisation, the unexpected became a big part of the play. During one of the dress rehearsals Junior Michael Raitor decided to come out on stage and drop his pants during the scene, which the directors liked and kept in the performance.  If a line is misspoken, it was was just fine because the person speaking could usually just work it into the play and make the audience laugh.
"All the improv is great we don't mean to say half the stuff we say, it's so funny," said Senior Beth Macnab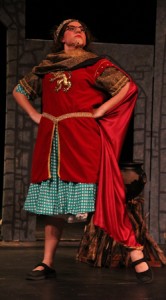 During the beginning of the play there was a "meat raffle" where lucky, unknowing, members of the audience could win a can of sausage, a meat stick, and a can of spam. During intermission there was a chance to win a pot of jam made by Athletic Director Tom Baumann himself, and a pear, or was it peach meringue pie. Also during intermission, if any cast members were out in the lobby, they had to stay in character the entire time while talking to the audience members.
Seniors Charlie Aldrich and Kaelie Lund played two play critics during the performance. Throughout the play they had to wear ridiculous outfits and consisted of bright colors, crazy patterns, feathers, and glitter. At the end of the play, Charlie could be seen sporting a pirate costume with lots of gold sparkling everywhere, complete with the earring and the hat.
"My character George Peach,  is a very odd individual, very eccentric, and his costumes are pretty ridiculous. He think's he's really great which is funny because he's kind of a weirdo." said Aldrich.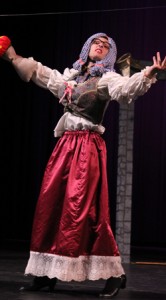 This play was a great risk for directors Tracy Hagstrom-Durant and Deb Bestland to put on because of all the improv and never knowing what to expect.
"It's been a real challenge to do the improvising because it makes me nervous but it has been the most fun because [the cast and crew] are creative and smart." said HD