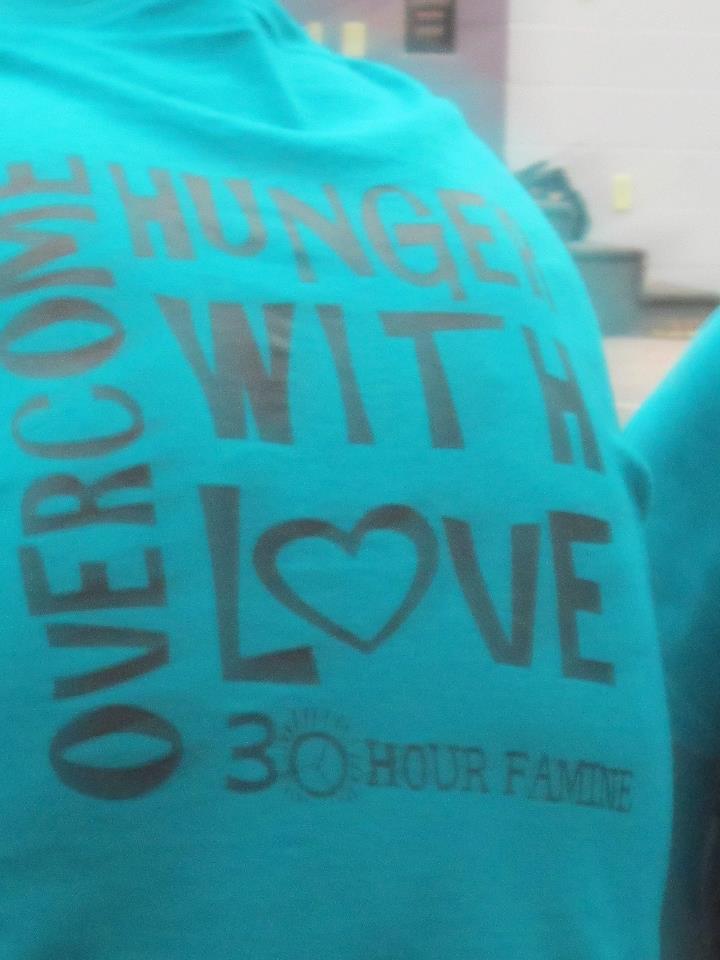 Do The Famine – We Are Hungry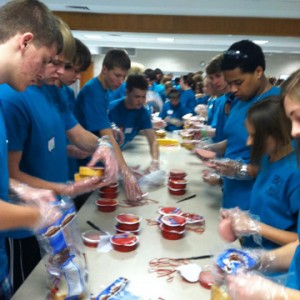 Looking around the school on Friday, March 23rd one might notice all the kids wearing the same bright teal shirt that says "overcome hunger with love" on the back. Throughout Buffalo Middle School and High School, over 100 students went for 30 hours without food to raise hunger awareness.
St. John's Lutheran Church hosted The 30 Hour Famine, a program run through World Vision. Around 4:30 p.m.  over 150 kids piled into the church. Students signed up to go to various service projects including Love INC, both in Delano and Buffalo, helping with the food shelf, sorting through books, and others to help out in and around their community.
"My service project was making sandwiches for the elderly in a nursing home. We also helped label books for kids for charity. It was really fun and I enjoyed helping people. Making the sandwiches was torture though because we hadn't eaten in 24 hours," said Junior JB Miller
The Famine began on Thursday at 6:00 p.m. and went all the way to midnight on Friday. During that time, students were asked not to eat anything, although they were allowed to drink water and juice, showing how families in other countries such as Kenya and Bolivia, don't have the comforts of food like we do here.
"Going 30 hours without food isn't that bad. The only challenging part was going to track practice on an empty stomach," said Junior Mark Bjork.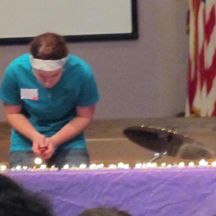 At 8:00 p.m. everyone went upstairs into the sanctuary for a little music from The Dave Herring Band, who played for about an hour. Most of the students joined in singing along and praising God. After, Kelly Thole the youth leader at St. John's, went up and talked to the students about hunger and what they could do to help. Altogether over $2,500 dollars were raised to go to World Vision to help.
"I really like the meaning on the famine. It was something to show awareness for the hungry. I really like doing this and look forward to it every year," said Junior Becca Haggerty.
Afterward everyone filed back downstairs into the Family Life Center for some tribal games. Students were split into four separate tribes from different countries, Kenya, Bolivia, Bangladesh, and Afghanistan. During this time games were played to represent how families in those countries had get food and water everyday and how much harder it is for them.
"I really enjoyed being a tribe leader for Afghanistan. Right when we started the sugar from all the juice I had really started to kick in so I was super pumped for everything. My tribe won two of the four event and I was very proud of our team," said Junior Taylor Strege.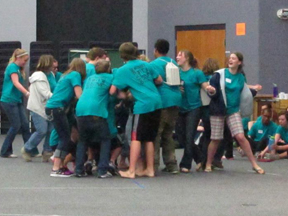 Once midnight struck, everyone lined up for breakfast.  The church had prepared pancakes, cinnamon rolls, juice, and bacon for everyone who participated.
"This was my first year doing the Famine. It was a lot of fun and a great experience to get to know other kids from different churches. I got through it because I focused on my confirmation verse, "I can do all things through Him who gives me strength." Philippians 4:13." said Freshmen Paul Bjork.