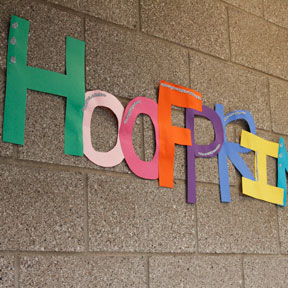 Making a Hoofprint in the Halls of BHS
"I heard about the Hoofprint online a couple weeks ago," said Junior Jackson Shepp. "I overheard people talking about it. They mentioned a video about a boy that could play the guitar really well."
Along with videos on the hoofprint.net, there are online stories, pictures and Twitter feeds. Although it has been up for three years and was awarded the Online Pacemaker Award last year, most of the community and even students aren't aware of the site.
When asked about the hoofprint.net, Junior Andy Hartung's only response was, "Never heard of it."  Ten out of 25 students surveyed knew about the hoofprint.net.
"I visit the website at least once a week," said Freshman Taylor Susa. "I love that it is student-run, also I enjoy all the stories on their because they're all so different."
Recently posters and locker magnets have filled the hallways, advertising hoofprint.net. Other than at Buffalo High School, there are bookmarks at local libraries. Downtown Buffalo has flyers in many of the stores.
In a student survey an anonymous student said, "I don't know a lot about the hoofprint.net but I've seen posters all over school and various places in the community."
When Shepp saw posters around the school, he said, "I have a strong urge to fulfill my curiosity and check out the online site."
Students often find advertisement helpful.
"It encourages me and reminds me that the hoofprint.net is still up and running with plenty of stories each week," said Susa.
Also available is The Hoofprint on Facebook.
By: Meghan Bye, Kyle Cole, Anne Kaminski