After throwing up all night, swimmer Jack Elliott makes it to State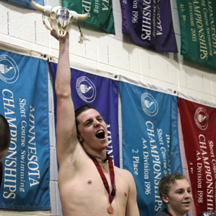 Junior Jackson Elliot swam the 100 butterfly in Elk River on February 25. He took fourth place at Sections with a State-qualifying time of 54.29 seconds.
During the preliminary day of Sections, where swimmers have to place in the top 16 to advance, Elliott swam the 500 freestyle and afterwards threw up six times and passed out. He was up until four o'clock the next morning throwing up, getting only two hours of sleep before waking up and deciding if he could continue on.
"I was skeptical for if I wanted to go back and swim," said Elliott. "I really wanted to because I didn't want to throw my entire season away. I worked really hard all year, and I knew I had a shot at state in the 500 and the butterfly. I just didn't know if I could physically pull it off."
Elliott will swim at the University of Minnesota's Aquatic Center tomorrow. He brings goals that he has had carried with him since he started swimming at Buffalo.
"My goals for state are to have fun and cut time because I'll be feeling better. But my all time goal since the moment I started BHS swimming is that I've always wanted to beat Nathan Engfer's time in the fly of 53.35. I don't know if it will happen, it's just something I've always wanted to do and hopefully at state it will."
Story continues after the video
Although Elliott is looking forward to the State Meet, he has mixed feelings because he is the only one from the team advancing on.
"I'm excited for State, but I'm super sad at the same time. I'm so excited because I made it, but then again I'm the only one who gets to go on to this next step. It feels like all the other guys are getting left behind. I'm happy and I'm sad."