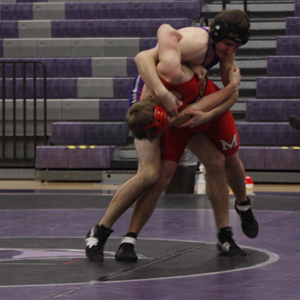 Buffalo sends four wrestlers to State
Last weekend, four Buffalo students placed high enough at the wrestling sections match to move on to State. It took place in Hopkins on Friday and Saturday and in order to make it to state, the athletes had to place first or second in their weight class. Eighth grader Adam Treptau, Junior Jonathan Wirkkala and Senior Lucas Mock all took second place while Senior Tanner Maus gained the title of Section Champ.
State is tomorrow and Saturday at the Excel Energy Center. Until then, the four athletes have the wrestling room to themselves. Mock said the atmosphere is more relaxed than during the season because the coaches let them prepare however they want as long as they don't get hurt.
For Mock, the goal for State is just to win a few matches. The first guy he'll be up against is ranked fifth in the state and if he wins he will go on to wrestle the guy ranked first.
Getting to State was the most important part because he wanted to end his high school career on a good note. Now that he is headed there,  he's not so much nervous as he is content. He's excited for State, but he wasn't always so sure that he'd make it.
"Going into Sections, I was confident because I was the third seed," said Mock. "My confidence slipped a little, though, when I found out that I'd be wrestling a kid that I lost 7-1 to last week at Team Sections. I had to tell myself, 'Don't be stupid. Be smarter and don't give him any easy points.' I ended up beating him 4-0 because I wanted it more."