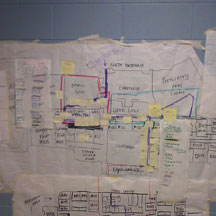 Senior Kat LaCroix recently introduced BHS to lipdub, which combines lip syncing and audio dubbing to make a music video.
"It's a video where a community celebrates the groups within itself." said LaCroix.
Sports and other activities are having their teams or groups be a part of lipdub, but anyone can sign up to become a part of this video. There isn't a set date for when the filming will take place, but it's going to be some time before spring break.
A lot of people were sceptical of LaCroix's idea, but that only gave her more motivation to succeed.
"Someone told me to let it go because it seemed like a lot of work. I need work." Said LaCroix, "It would be good for me."
"The song I chose for the video is  "Hey Ya" by Outkast," said LaCroix. "It's new enough that a lot of people know it, yet old enough that it's not overplayed."
If you want to get involved in lipdub, you can sign up through LaCroix. If you are already signed up and want to see where you would be placed in the video there is a map outside of Mr.McCallum's room.