Video: Introducing Carl Sones, freshman and lead vocalist of Barton's Hollow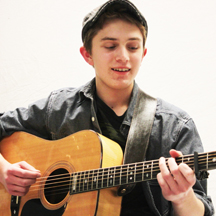 Freshman Carl Sones, at 14 years-old, is the lead vocalist and guitarist in the bluegrass band Barton's Hallow.
The the group originated while Sones was at a bluegrass festival when an old friend, Kylie Ellingson, asked if he wanted to join a band.
The band consists of six musicians that have been together since June of 2011. Sones has been exposed to music throughout his life and knew it was for him the first time he saw his dad on stage playing the banjo.
"I was born into music," said Sones. "The love for music starts when you have that one moment while you're improvising and you have a musical epiphany. Your soul just jumps out and starts dancing on your head. Once you have one of those you're stuck on it."
Article continues after the video.
Barton's Hallow preformed the last act during the Tri-M variety show on February 11, and they received a standing ovation. Although Sones is in front of crowds regularly, there was a more intense atmosphere playing in the Performing Arts Center.
"It was intimidating knowing my friends are all out in the crowd, said Sones. "Since I'm the kid in the band that goes to the school they [Barton's Hallow] were trying to make me a big figure. It scared me to always have to be on my toes, but it got my music out there and I love the feed back."