Blake Schmidt ends his hockey career with honor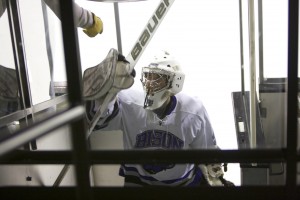 "Hockey has been the link to my father since the day he passed away," said Senior Blake Schmidt. "It's the only way I can see him." Schmidt's father introduced him to hockey when he was only six years old, and he has played ever since. "I pray to my dad during the National Anthem, before every single game."
With years of dedication and experience under his belt, Schmidt went up against two older and more experienced Goalies his freshman year. Winning the spot as starting Goalie for our Boys Varsity Hockey team, and continuing to fulfill the position his entire high school career.
"Hockey is my life. It's the thing that I will miss most from high school," said Schmidt.
Schmidt received a huge wake up call towards the end of the season, realizing that it was all about to come to an end. The sport that has shaped who he is today, would soon be over and there was no stopping it.
"I've always loved playing for my fans and playing well, but I never took it absolutely 100 percent seriously until now. Until I realized that I soon wont be able to call myself their Goalie anymore."
This wake up call didn't just affect Schmidt, the whole team has really come together in this past season, new coach and all.
"I've gotten a lot closer to some of the players on the team like Max, Jackson, Klein and Dain. Partly because its our last year, partly because of our new coach. Who really helped us all to connect."
The new chemistry and motivation also helped in the attitude that Schmidt brought onto the ice.
"Knowing that we actually have a chance to win makes me try that much harder," said Schmidt.
His fans definitely noticed his performance.
"Couldn't have asked for more," said Junior Drake Wohlenhaus, "We are all gonna miss him next year."
Have given so much intensity and love into one role made it more than just a position played in a two-hour-long game. Being in the net is where Schmidt feels he belongs, it's home.
"It will be really hard to come back and watch a game next year, looking at someone else in my net, but I know how good it's going to feel for them," said Schmidt, "I wish them the best of luck."
Schmidt left us on a fantastic note with his remarkable fight against Minnetonka on February 18th. With an impressive 51 saves, Schmidt was featured on the front page of the Sports section in the Journal Press, as well as being recognized in the Star Tribune.
"I felt it was the best game I've ever played," said Schmidt, "I wanted to leave my 4 year Varsity career with a bang, something for my team, my fans, my family and myself to remember."
And that's exactly what Schmidt did.
"The more shots Blake had the better he performed," said Terri Schmidt, "He was my hero that night."